Food & Beverage
Dobot's automated packaging, bin picking, and palletizing solutions help food and beverage clients save costs and alleviate problems arise from the need for seasonal workers. Collaborative robots are quick to deploy and easy to use. They greatly reduce downtime and workplace injuries while improving efficiency.
Our cobots operate with high precision to save material waste and improve quality and consistency. They can operate in extreme hot and cold temperatures required during food processing.
Advantages of Collaborative Robots
Quick to Deploy
Intuitive drag-to-teach and no code programming greatly reduces setup and debug time. Easily integrate into existing solutions and production lines with our highly portable cobots.
Safe and Reliable
The innovative SafeSkin offers pre-collision detection to ensure the safety of workers without additional safety equipment. Workers and machines can share the same workspace to maximize efficiency.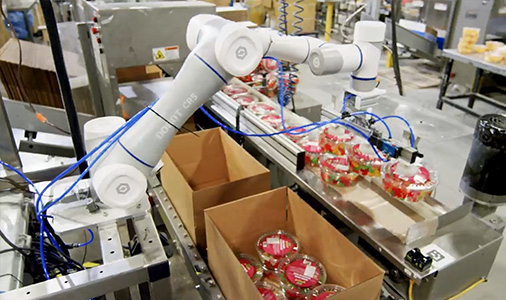 Flexible Production
Dobot+ ecosystem offers a wide range of plug-and-play accessories from our partners to enable endless expandability to our robots for quick redeployment to various tasks.
Application Scenarios
Recommended Robots
Choose the robot with the payload and working radius that best fits your needs for optimal results.